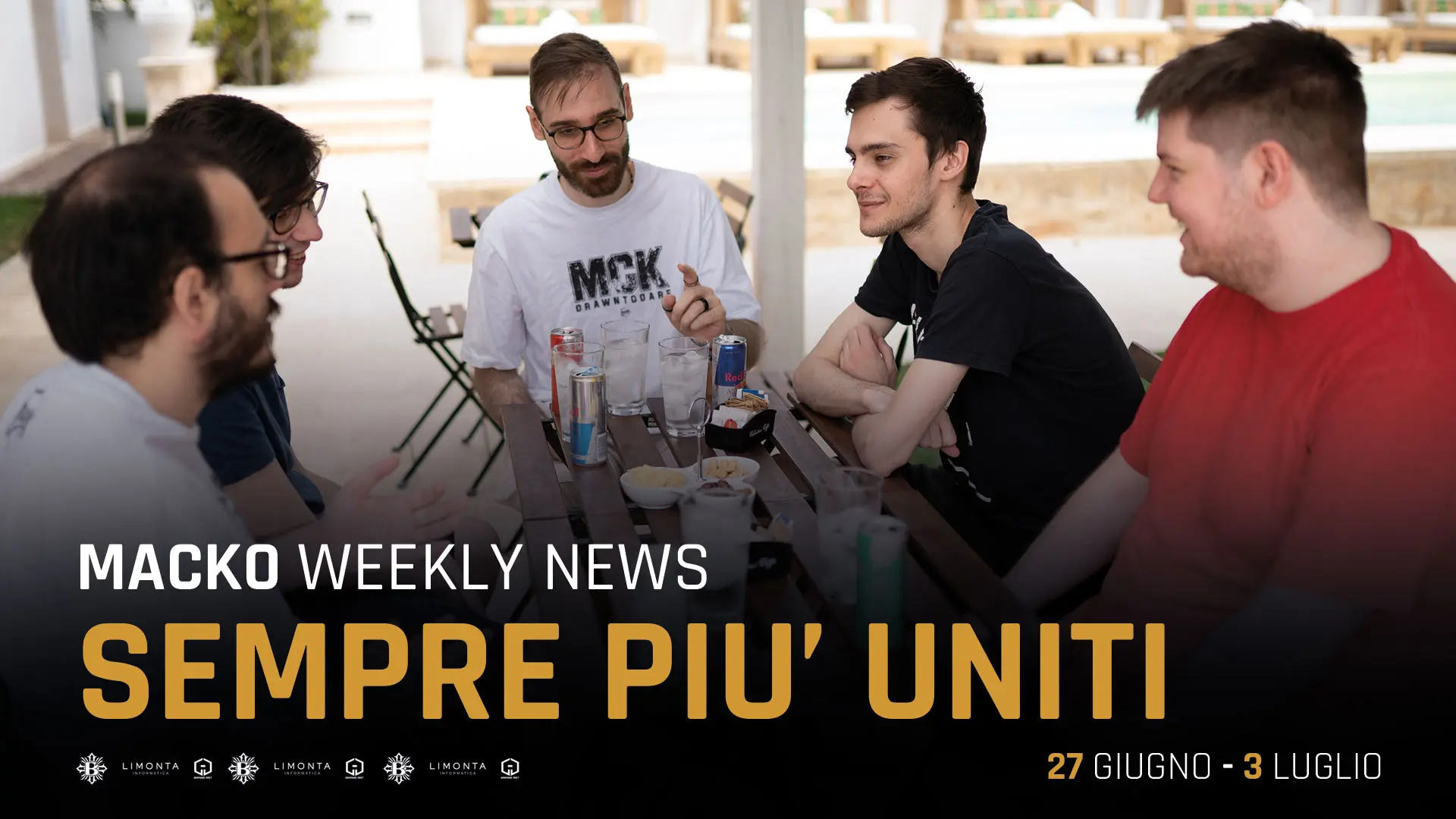 SEMPRE PIù UNITI
Ciao Tifosi! Settimana particolarmente sostanziosa, attiva su tutti i fronti competitivi! Senza perderci in troppe chiacchiere, tuffiamoci subito nell'azione!
LEAGUE OF LEGENDS TEAM
Il gaming house buff si sente (e si vede). Un'altra settimana di ordinaria eccellenza per i nostri ragazzi impegnati nel PG Nationals, che ormai ci stanno veramente viziando a suon di vittorie. Ennesimo 2-0 in questa settimana che ci consente di confermare il primo solidissimo posto (finalmente tutto per noi), grazie alle convincenti vittorie contro Outplayed e GGEsports. "Questi Macko fanno sempre più paura" a detta dei caster di PG. I nostri ragazzi continuano a confermarsi come la squadra da battere a sole tre partite dall'inizio dei playoff. GG guys!
PROSSIMI MATCH:
PG NATS CLOSING SUPERWEEK SU  twitch.tv/pg_esports
martedì 6 luglio alle 21:00 vs Mkers 
mercoledì 7 luglio alle 20:00 vs Cyberground Gaming
giovedì 8 luglio alle 22:00 vs Axolotl
RAINBOW SIX MAIN TEAM
Domenica scorsa si è chiuso lo Spring Split del PG Nationals con un 4° posto per i nostri ragazzi di R6. Combattiamo ma non abbastanza da impensierire i Reply Totem nella Best of 3 che consegna ai nostri avversari il terzo posto in classifica. Analogo il punteggio (7-5) sia in Clubhouse che in Consolato. Ora, però, concentrazione al massimo. Manca poco all'inizio dei playoff annuali e la posta in gioco è enorme. Forza ragazzi, crediamoci!
VALORANT TEAM
Primo impegno per il nostro nuovissimo team di Valorant che si è visto impegnato nel Qualifier dell'Agent Series. Dopo una prima vittoria i nostri ragazzi cedono ai quarti di finale contro gli Swag Silicone. Un solo passo falso non compromette nulla, siamo sicuri che pian piano anche qui riusciremo a conseguire risultati enormi. Per ora, torniamo a lavorare sodo.

RAINBOW SIX ACADEMY TEAM
Buonissime notizie dall'Academy di Rainbow Six Siege: i nostri ragazzi, dopo una stagione incredibile, hanno conquistato il campionato BeSerious dominando nella fase dei playoff. La semifinale contro i Reply Totem va via liscia come l'olio grazie ad un doppio 7-3 ottenuto prima su Kafé Dostoevskij e poi su Oregon.
In finale contro l'Academy degli Hmble, la prestazione è ancora più schiacciante con una prima vittoria in Villa per 7-4 seguita da un nettissimo 7-1 nuovamente nella mappa russa. Si chiude quindi con una massiccia vittoria da parte nostra questa prima edizione del primo campionato T4 della scena italiana.
Siamo estremamente soddisfatti e contenti della prestazione dei nostri ragazzi che hanno saputo mettere in mostra qualità e costanza degne di grandi giocatori. Se il buongiorno si vede dal mattino, questi ragazzi non posso aspirare a nient'altro se non puntare ancora più in alto di così. Complimenti!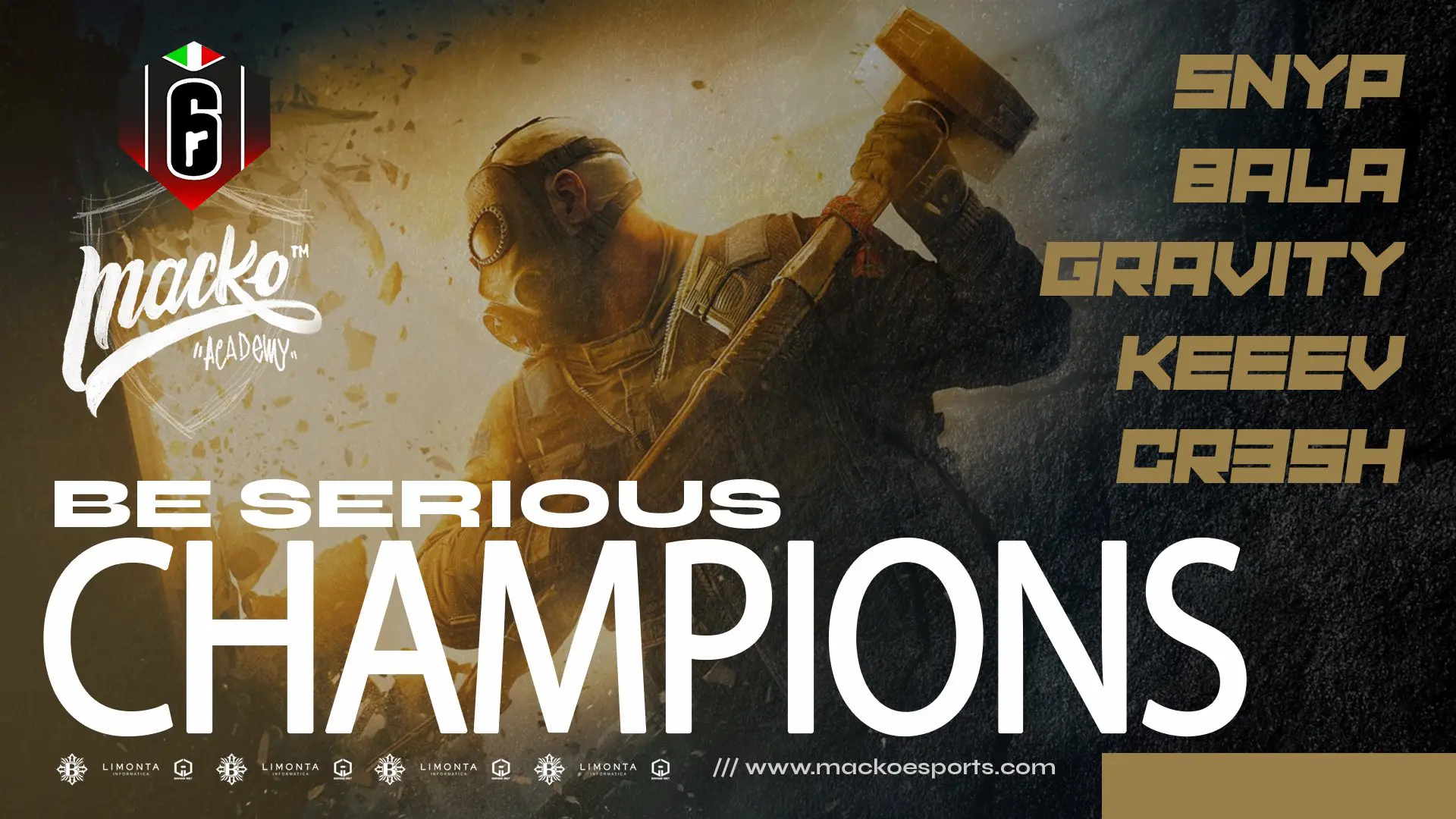 Di Marco Amato.