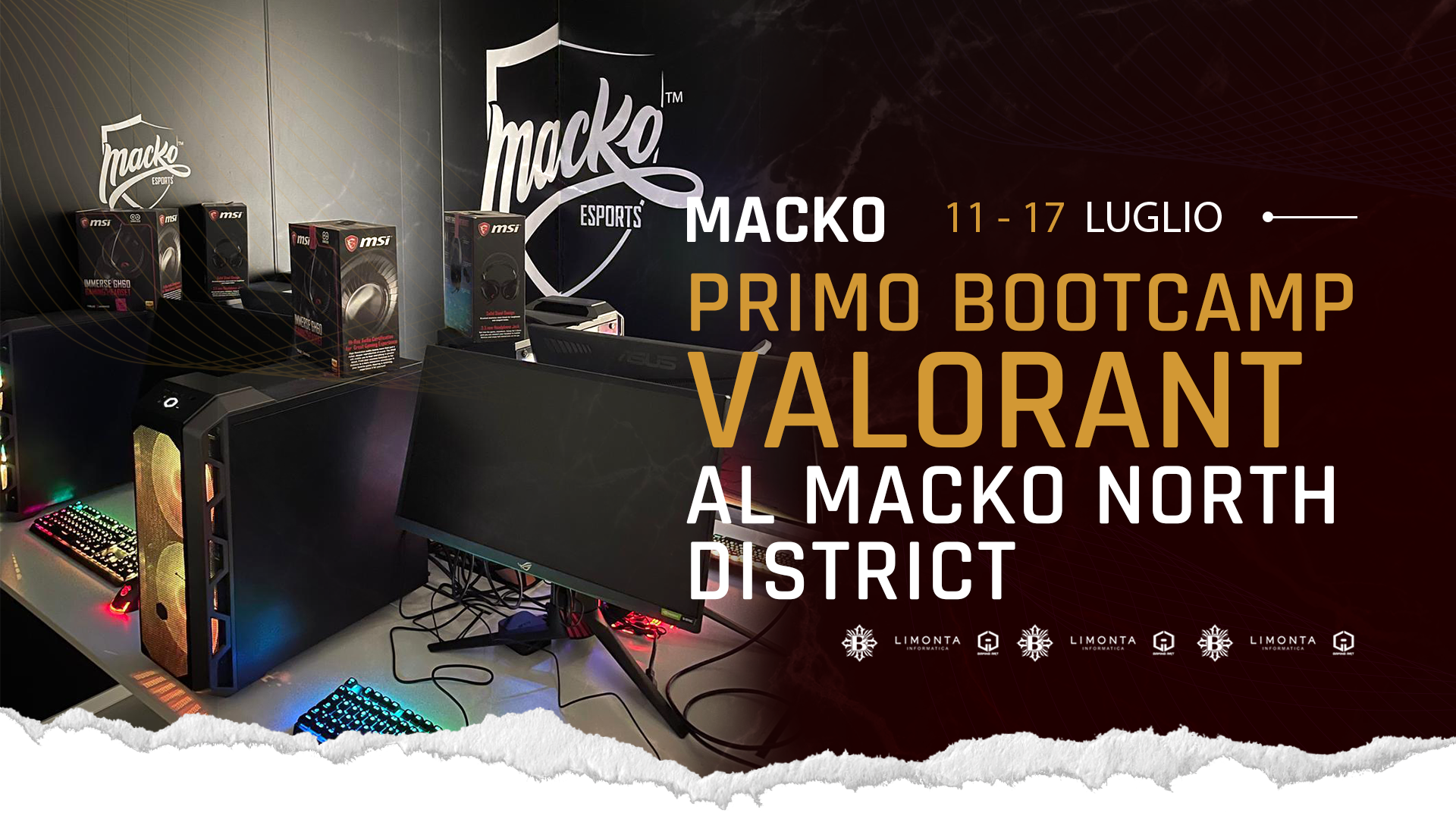 PRIMO BOOTCAMP VALORANT AL MACKO NORTH DISTRICT
Ciao tifosi! Lotte all'ultima 'nade per l'Europa, playoff LoL all'orizzonte e primoboot camp per il team di Valorant. Appuntamenti caldissimi nelle prossime due settimane per i nostri ragazzi, con due titoli nazionali da assegnare per prendere nuovamente il volo verso lidi europei di spessore in cui, possiamo dirlo, crediamo tanto. Ma andiamo avanti con ordine e facciamo una carrellata di tutti gli avvenimenti della settimana.
VALORANT
Iniziano le attività sul campo anche per il team di Valorant! Le nostre cinque reclute Xazzyyy, Grigio, Lando, Humilik e Denzo arriveranno da Svezia, Repubblica Ceca e tutta Italia per il loro primo boot camp al MACKO North District di Milano, sede del nostro partner Limonta Informatica. Qui il nostro magico quintetto prenderà parte all'Open Qualifier del Valorant Champions Tour 2021: Stage 3. Un palcoscenico enorme per loro che, arrivando fino in fondo a tutti i qualifier avrebbero la possibilità di giocare con i più grandi della scena competitiva.
Stay tuned per seguire il boot camp. In bocca al lupo, ragazzi!
RAINBOW SIX SIEGE
Impresa combattutissima per il nostro roster di Rainbow Six che, dopo aver conquistato la finale di upper bracket, perde la Best of 5 contro i Mkers per 3-1. La serie si apre con un 7-4 su Consolato per i nostri avversari a cui rispondiamo su Kafé (5-7). Fin qui ogni team vince la mappa prescelta.
Poi però commettiamo non pochi errori su Clubhouse, cedendola agli avversari per un netto 2-7. Infine la nostra cara Villa riserva i momenti più emozionanti: quando tutto sembrava perduto su un 6-1 per i Mkers, iniziamo un rimontone incredibile: Villa è per noi è casa, non ci stiamo a farcela soffiare così. Round dopo round, ci riportiamo ad un intensissimo 6-5. Purtroppo però non è abbastanza: la mappa si chiude 7-5 per gli avversari, anche se vengono evitati i supplementari solo grazie ad un salvataggio miracoloso (e fortunato) da parte di Scatto.
Nel complesso i ragazzi hanno tenuto testa ad un team di caratura ormai continentale. Emerge ancora qualche difficoltà ad essere incisivi in attacco da parte nostra, ma ci sarà tempo per fare i dovuti aggiustamenti, in attesa di scoprire chi sarà il nostro avversario tra Outplayed e Reply Totem.
Andiamo a prenderci questa finale ragazzi!
PROSSIMO MATCH:
Season Playoff, lower bracket final: 20 luglio h18:00 vs TBD su twitch.tv/rainbow6it
LEAGUE OF LEGENDS 
Procede a gonfie vele il bootcamp del nostro magico roster di League of Legends qui nella nostra gaming house di Monopoli. I ragazzi stanno utilizzando questi giorni di stacco per allenarsi e recuperare le energie in vista del match, in programma martedì 20 luglio alle ore 19:00, contro gli Axolotl. Sarà importante riconfermarsi subito per evitare la lunga trafila della lower bracket.
Buona fortuna ragazzi!
PROSSIMO MATCH:
PG Nats Playoff, 20 luglio h19:00 vs Axolotl su twitch.tv/pg_esports
Di Marco Amato.