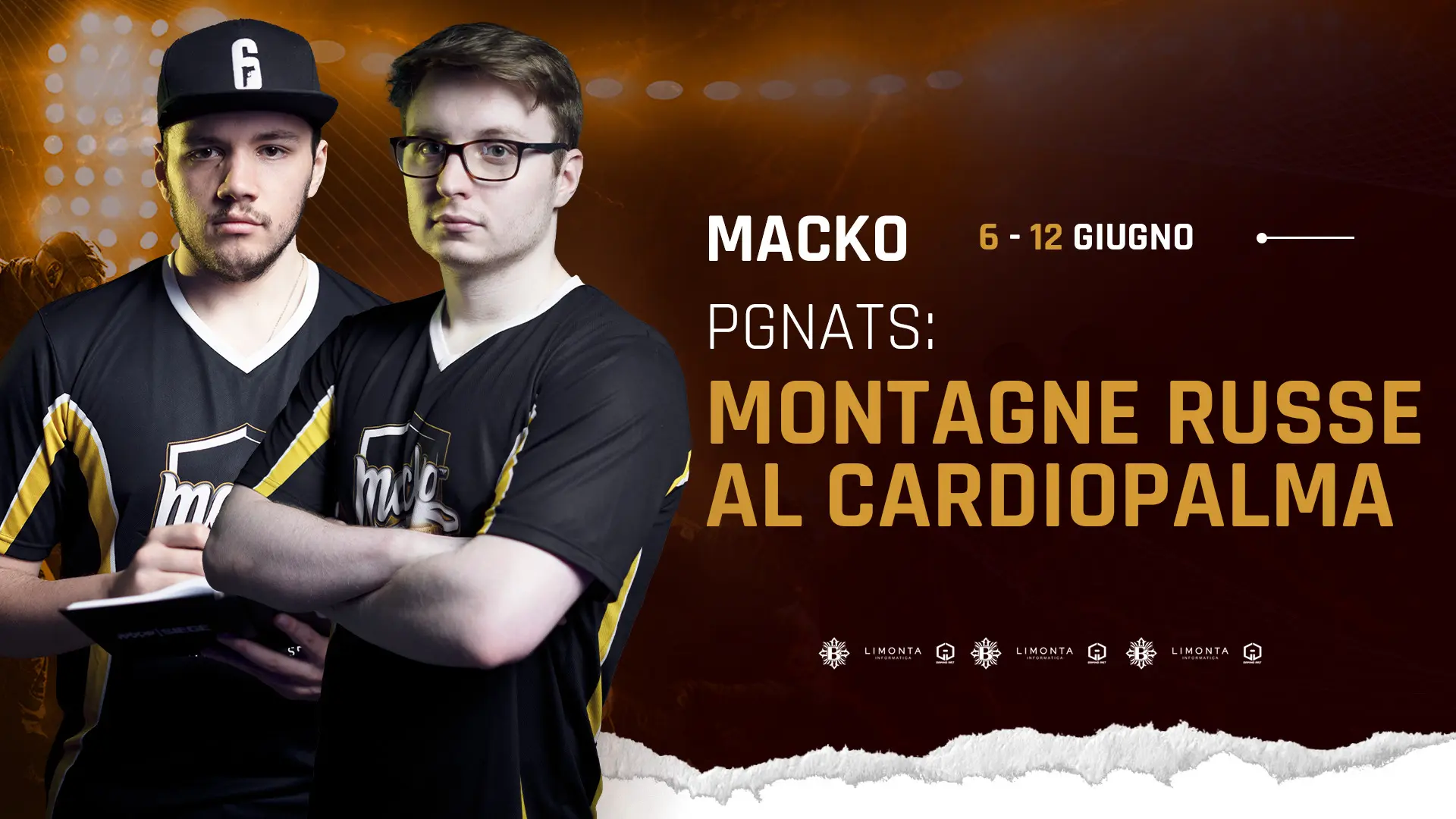 PGNATS: MONTAGNE RUSSE AL CARDIOPALMA
Ciao tifosi! La settimana conclusiva del campionato italiano di Rainbow Six è stata un'altalena di emozioni non indifferente, ma ora siamo di nuovo in corsa per un posto ai playoff, sia stagionali che annuali. Ma andiamo in ordine.
LEAGUE OF LEGENDS TEAM
Ottima partenza in questa week 2 da parte dei nostri ragazzi, che si liberano facilmente in una mezz'oretta dei GGEsports, preparando il big match del day 5 contro i rivalissimi Mkers. Cavalcando ancora l'onda dell'entusiasmo della sera prima riusciamo a stare sempre un passo avanti rispetto ai nostri avversari, ultimando l'opera con la Baron Powerplay finale che i nostri ragazzi sfruttano a dovere per fare incursione e devastare tutto ciò che si è frapposto tra loro e il Nexus nemico.
Ci portiamo a casa un 2-0 questa settimana a dir poco incredibile e ci vale la risalita al quarto posto in classifica. GG ragazzi.
PROSSIMO MATCH:
PG Nationals Summer Split: MACKO Esports vs CyberGround Gaming, 9 giugno ore 19:00 CEST su twitch.tv/PG_Esports
RAINBOW SIX MAIN TEAM
Se la scorsa settimana è stata superweek di apertura del League of Legends PGNATS, questa settimana è stata superweek di chiusura del PGNATS di Rainbow Six. Il primo piatto di questa abbuffata sono stati gli IGP nella solita Kafé Dostoevskij. Un match decisamente scorrevole che chiudiamo senza troppa fatica sul 7-3 condannando i nostri avversari alla relegation e mettendo matematicamente sotto chiave l'accesso ai playoff.
Successivamente è stato il turno degli Hmble in un match super adrenalinico, che sarebbe servito a smuovere qualche punto e posizione in classifica e che, purtroppo, ci viene strappato ai supplementari dopo 14 round molto impegnativi. Un inizio convincente: chiudiamo la prima fase divensiva 4-1, ma dietro l'angolo ci ha colti di sorpresa un sorpasso che si è concluso in un sofferto ribaltamento 6-8.
Chiudiamo il campionato contro i Notorious Legion e sempre nella mappa russa dove torniamo a vincere con un totale di 7-4 e posizionandoci definitivamente quarti in classifica. Ora testa ai playoff dove incontreremo per primi proprio gli Hmble per un posto in semifinale.
PROSSIMO MATCH:
PG Nationals Spring Split PLAYOFF: MACKO Esports vs Hmble, martedì 15 Giugno su twitch.tv/Rainbow6IT
RAINBOW SIX ACADEMY TEAM
Serata complicata per i nostri giovani talenti nell'ultimo playday di BeSerious. Una sconfitta pesante contro il Team Nyx per 7-2 in Chalet. Ad ogni modo questo non pregiudica il nostro posizionamento in classifica: siamo ancora primi ad una lunghezza sui Caps Lock.
PROSSIMO MATCH:
BeSerious: MACKO Academy vs CyberGround Academy, oggi alle19:30 su www.twitch.tv/6ixProject
Di Marco Amato.