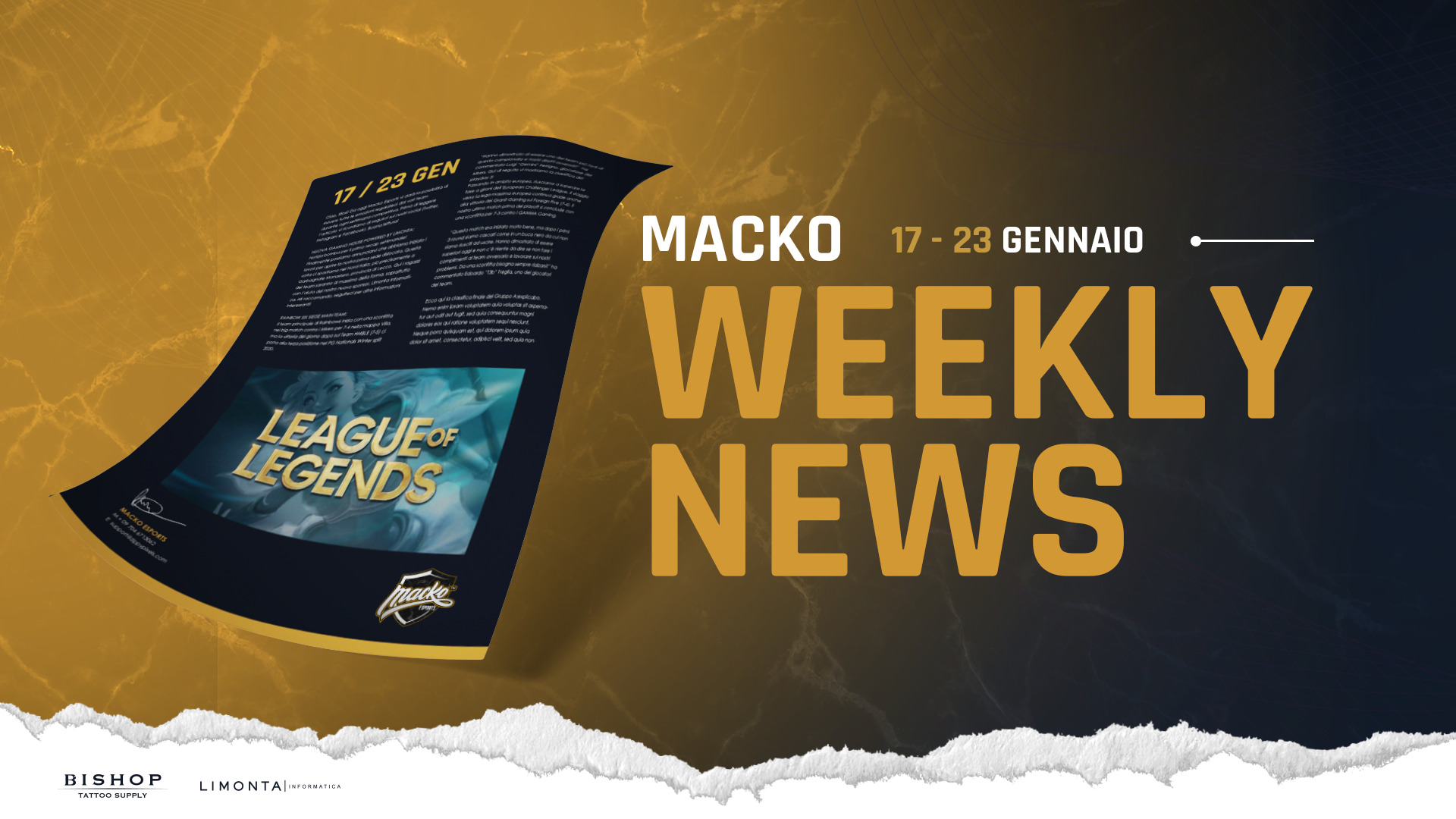 LEAGUE OF LEGENDS: SETTIMANA DA INARRESTABILI
Ciao Tifosi! So bene che siete tutti in attesa della partita di domenica ma a farvi crescere l'entusiasmo ci hanno pensato i nostri ragazzi di League of Legends reduci da una settimana semplicemente perfetta. Cosa mai sarà successo? Leggetelo qui sotto!
LOL PG NATS: VITTORIE STORICHE PER I MACKO™
Dopo aver finito la prima Week del PG Nats con una vittoria ed una sconfitta è già tempo di riorganizzare le cose e concentrarsi sul prossimo doppio impegno valido proprio per il campionato nazionale. Ad attendere i nostri ragazzi nella terza giornata sono i GG&Esports che dominiamo senza problemi con una Baron Powerplay che i nostri ragazzi usano perfettamente per effettuare un vero e proprio blitz nella base avversaria che porta ad una vittoria assolutamente di spessore.
Giovedì invece è stato il momento di un match che ha il sapore della grande sfida, prima di tutto per il grosso appuntamento di domenica ed è stato proprio nel momento di maggiore risalto che i nostri giocatori hanno iniziato a splendere come non mai. Vittoria importantissima contro i Mkers che non solo ci permette di chiudere la settimana con il primo 2-0, ma ci consegna anche il primo posto in classifica a pari merito proprio contro i nostri ultimi avversari.
PROSSIMI MATCH
PG Nationals Spring Split 2021 su twitch.tv/pg_esports
mercoledì 27 gennaio alle 20:00 vs Outplayed
giovedì 28 gennaio alle 19:00 vs CyberGround Gaming
RAINBOW SIX SIEGE: MACKO™ ACADEMY
C'è aria di derby nella Major League di Talent League di Rainbow Six Siege, la competizione in cui la nostra Academy compete a livello europeo contro alcuni dei migliori prospetti della scena. Parliamo di derby perché i nostri avversari di lunedì sono stati gli Outplayed, in una best of 2 tutta italiana. La prima mappa giocata è stata Oregon, vinta in modo schiacciante per 7-3 grazie ad una prestazione collettiva molto convincente, per poi proseguire su Villa dove, dopo essere finiti ai supplementari, non riusciamo per pochissimo a replicare il successo iniziale ottenendo il secondo pareggio consecutivo.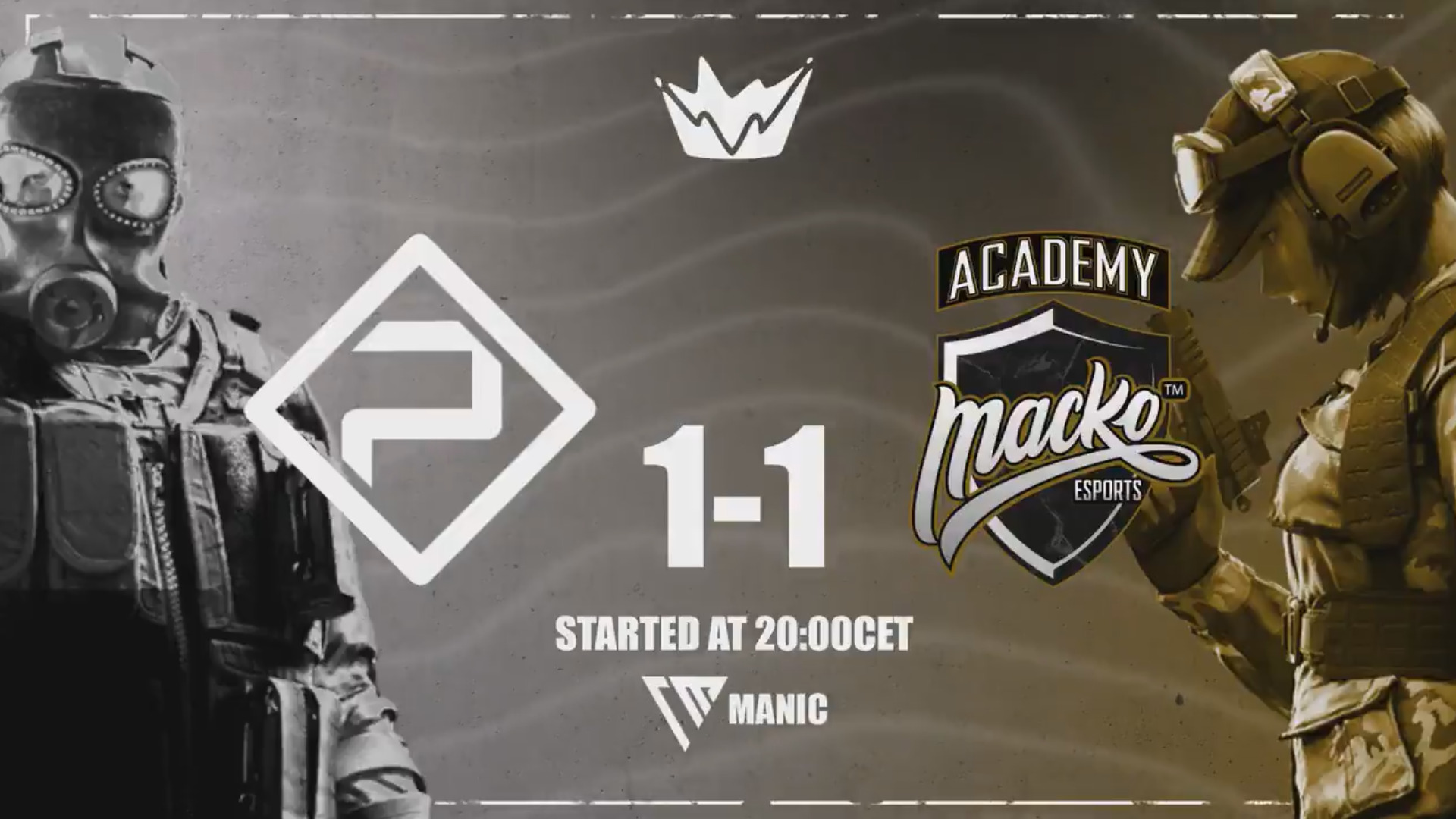 PROSSIMO MATCH
Talent League playday 3, martedì 18 gennaio alle 20:00 vs Manic su twitch.tv/talentleaguer6
Anche per questa settimana siamo arrivati alla fine degli aggiornamenti, ricordatevi di seguirci su tutti i social per non perdervi proprio nulla.
Di Marco Amato.