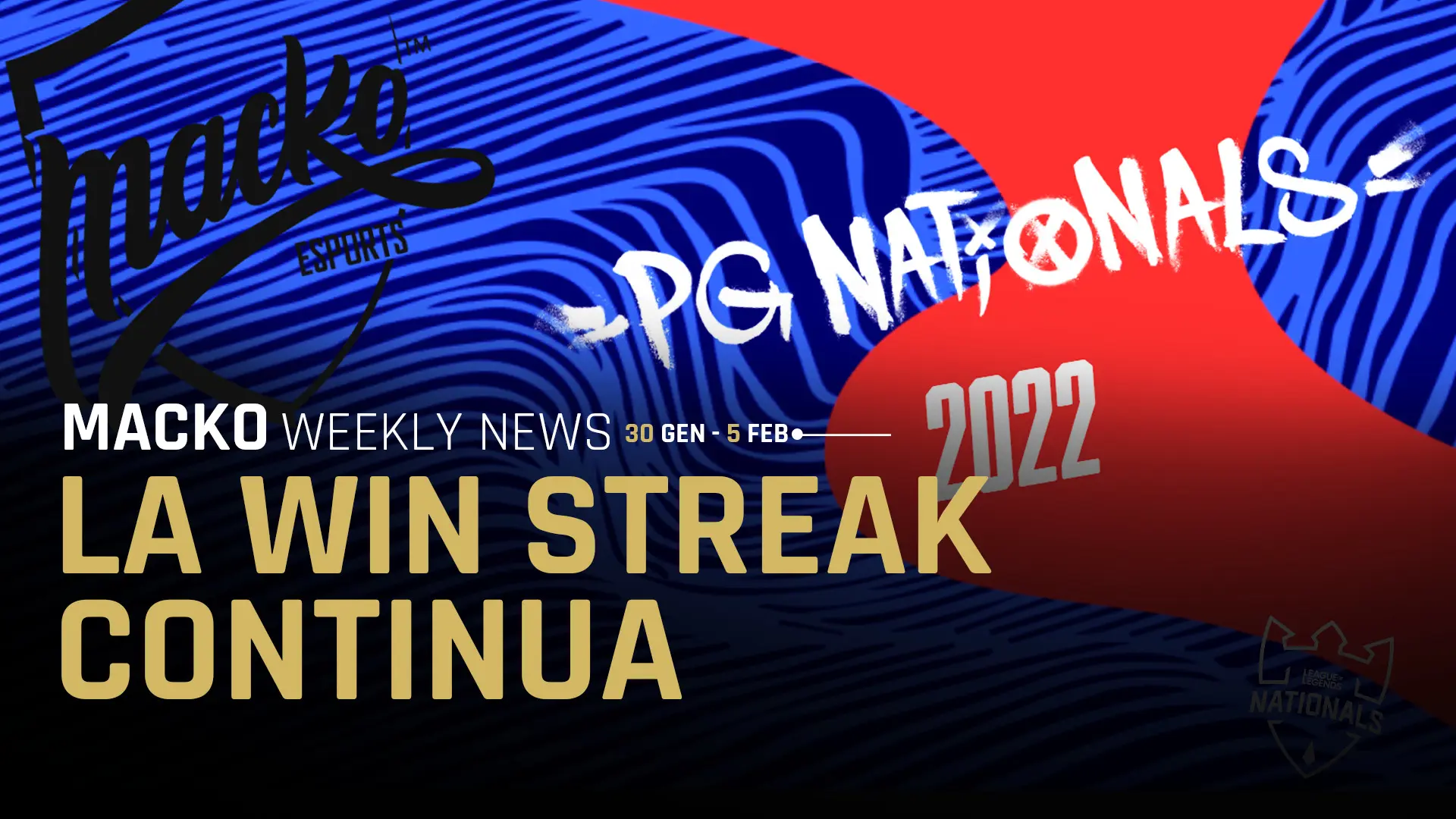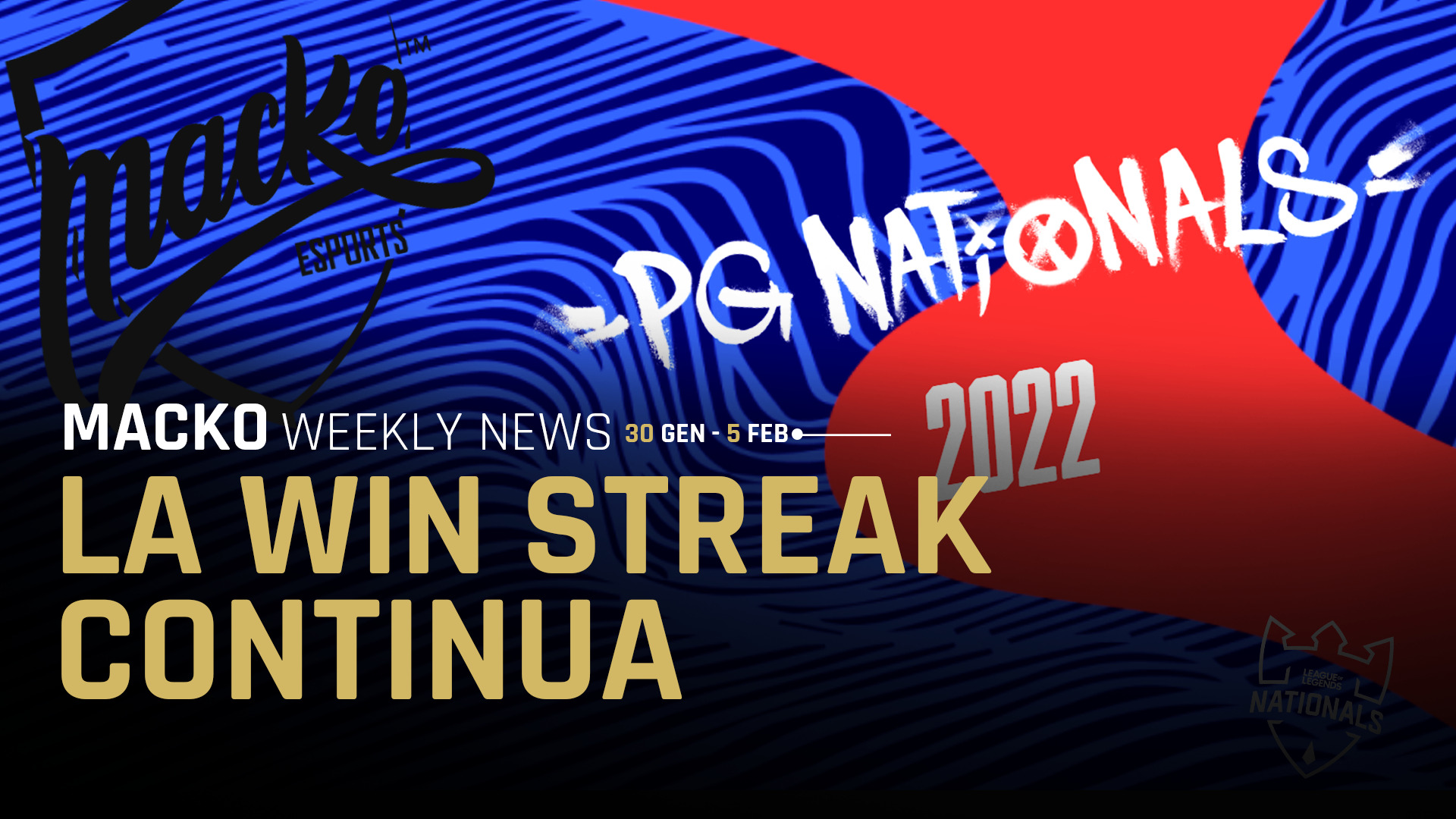 LA WIN STREAK CONTINUA
Ciao Macko family! Un'altra ordinaria settimana di vittoria per i nostri ragazzi di League of Legends. Diciamocelo pure, ci stanno un po' viziando e non ci dispiace per niente. Andiamo a vedere cosa è successo nei due match di PG Nats!
PG NATS DI LEAGUE OF LEGENDS
Proprio come anticipavo nell'introduzione, nuova settimana, nuovo 2-0 nel doppio impegno di campionato. Tutto inizia con gli Outplayed in un match in cui c'è veramente poco da dire. Un dominio spietato e senza appello, non arriviamo nemmeno alla mezz'ora prima di liquidare i nostri avversari schiacciandoli sotto ogni punto di vista. Preziosissima la prestazione dei nostri ragazzi, in particolare quella di HawHaw che ha letteralmente seminato il panico in midlane con la pick di Ekko che gli è tornata a dir poco comoda.
First game of Ekko in PG Nats = Easy speedrun xD enemies forgor I'm an Ekko otp 💀💀💀 pic.twitter.com/oxzQ4wIfIe

— HawHawNeverLucky (@HawHawNeverLuck) February 1, 2022
Sulle ali dell'entusiasmo i nostri ragazzi approcciano, nella serata successiva, i Cyberground Gaming. Rispetto alla serata precedente ci troviamo di fronte ad un avversario più agguerrito che cerca di fare della superiorità numerica sulla mappa il suo punto di forza riuscendo anche a metterci in difficoltà nelle prime battute del game. Le sorti dell'incontrano cambiano dopo lo steal del drago della montagna con i ragazzi che riescono a capitalizzare sul fight di squadra e costruirsi un ottimo vantaggio di gold. Fondamentale la giocata di Kamil che ha spostato di netto gli equilibri dopo essere entrata per bene in gioco. Il colpo letale lo diamo dopo la conquista del secondo barone che distrae i CGG dall'azione e consente al solito HawHaw di infiltrarsi nella base avversaria e fare coriandoli del Nexus delle aquile.
Primo posto finalmente in solitaria, che ci fa stare tranquilli anche questa settimana. Ancora una volta siamo entusiasti di questi risultati e non vediamo l'ora di continuare questo dominio sul PG Nationals!
Commento dell'irrispettoso coach… @Cristoishere @PGEsportsIT #pgnat pic.twitter.com/TXlDOv9Qxm

— MACKO™ Esports (@mackoesports) February 1, 2022

PROSSIMI MATCH:
Di Marco Amato