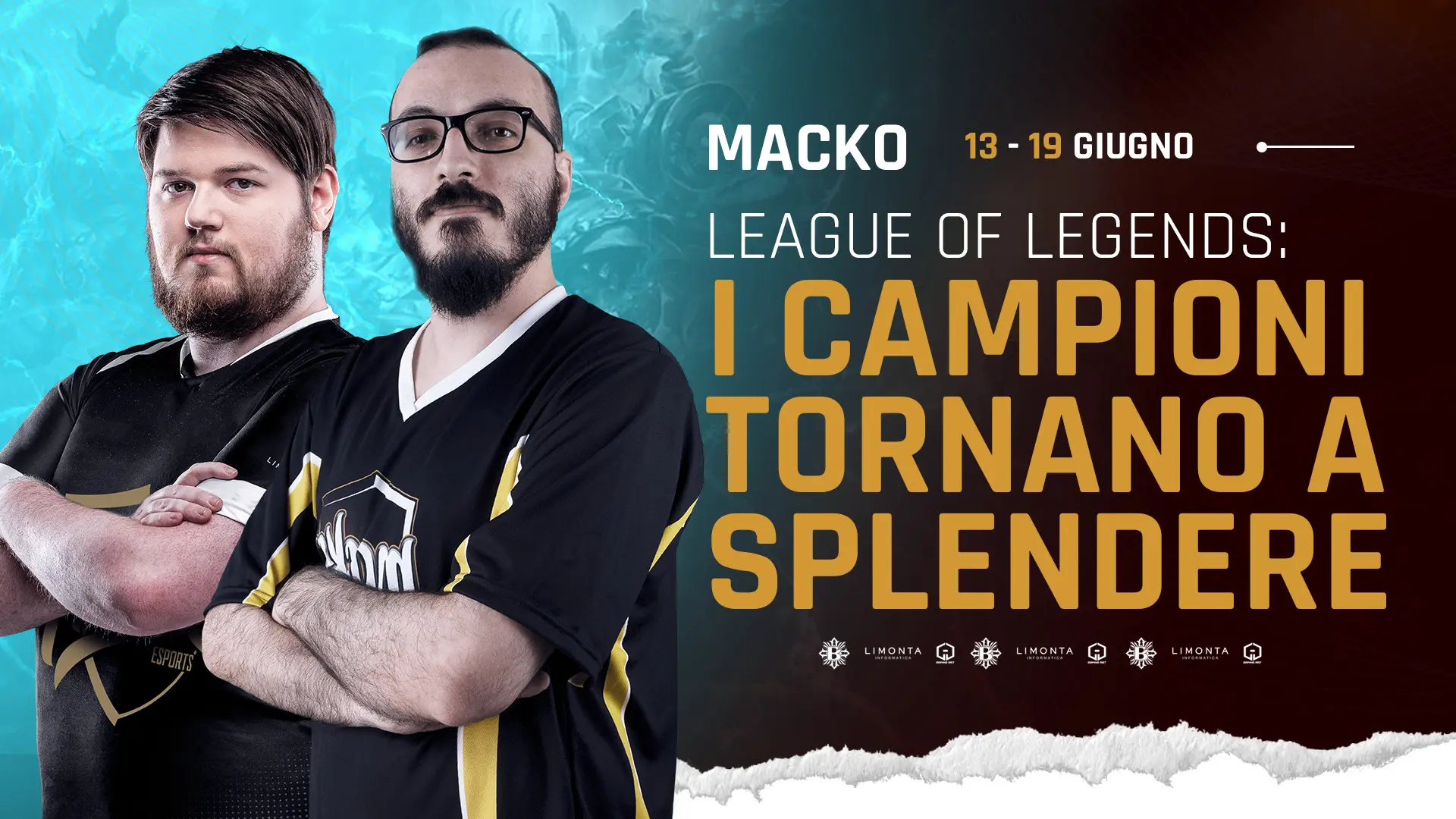 I CAMPIONI TORNANO A SPLENDERE
Ciao Tifosi! Una settimana dal sapore dolce amaro per la MACKO Family. Senza perderci in troppe chiacchiere, andiamo subito a vedere tutti i principali avvenimenti della settimana.
LEAGUE OF LEGENDS TEAM
La falsa partenza della prima settimana sembra essere ormai ampiamente alle spalle del nostro roster di League of Legends. Subito al match di apertura ci prendiamo una bella vittoria contro i CyberGround Gaming, dominata sotto tutti i punti di vista e chiusa grazie al guizzo di Sebekx con la sua Tristana, che prende di sorpresa il team avversario costringendolo a ripiegare inutilmente sul Nexus – che verrà distrutto da lì a poco.
Completiamo la settimana ed il girone d'andata contro gli Axolotl, una delle rivelazioni di questo split che sta meritatamente occupando posizioni di vertice in classifica. I nostri ragazzi però non si lasciano intimorire. Giocano con pazienza ed attenzione aspettando l'uccisione del Barone prima di entrare nelle fila nemiche e distruggere tutto come un coltello arroventato nel burro.
Settimana chiusa sul 2-0 a pari merito con tutte le prime classificate. Ottimo lavoro!
PROSSIMO MATCH:
PG Nationals Summer Split: MACKO Esports vs Gaia Esports, 23 giugno ore 22:00 su twitch.tv/PG_Esports
RAINBOW SIX MAIN TEAM
Per il nostro team di Rainbow Six Siege la strada dei playoff parte da lontano, dai quarti di finale, ottenuti col 4° posto a chiusura della Regular Season. I nostri primi avversari sono gli Hmble per la prima Best of 3: la prima mappa, la nostra cara Villa, riusciamo a recuperarla dopo un'apertura non proprio eccellente, congelando il primo punto sul 7-4. Su Kafé Dostoevskij, invece, la musica cambia e procediamo spediti verso l'obiettivo, portandoci a casa l'intera serie con un netto 7-1.
Guadagnato l'accesso alle semifinali incontriamo i Mkers contro cui, però, i nostri ragazzi non riescono ad incidere come dovrebbero, trovando due sconfitte in Chalet ed Oregon (7-3;7-1).
Non giocheremo la finale dello Split ma c'è ancora il terzo posto da conquistare e, una volta chiusa questa fase, ci saranno i playoff annuali, dove c'è in palio la posta grossa: la Challenger League.
Forza ragazzi!
PROSSIMO MATCH:
PG Nationals Spring Split PLAYOFF: MACKO Esports vs Reply Totem, domenica 27 Giugno su twitch.tv/Rainbow6IT
RAINBOW SIX ACADEMY TEAM
Dopo la vittoria a tavolino ottenuta, i nostri ragazzi hanno voluto dimostrate di non essersi seduti sugli allori e decidono di provarlo nel migliore dei modi: vincendo 7-5 contro gli Esports Empire e provando ancora una volta il loro valore in questa competizione.
Purtroppo chiudiamo la Regular Season con una sconfitta per 8-7 contro i Caps Lock ma, per quanto sono stati in grado di dimostrare i nostri ragazzi, siamo estremamente soddisfatti delle loro prestazioni.
Di Marco Amato.