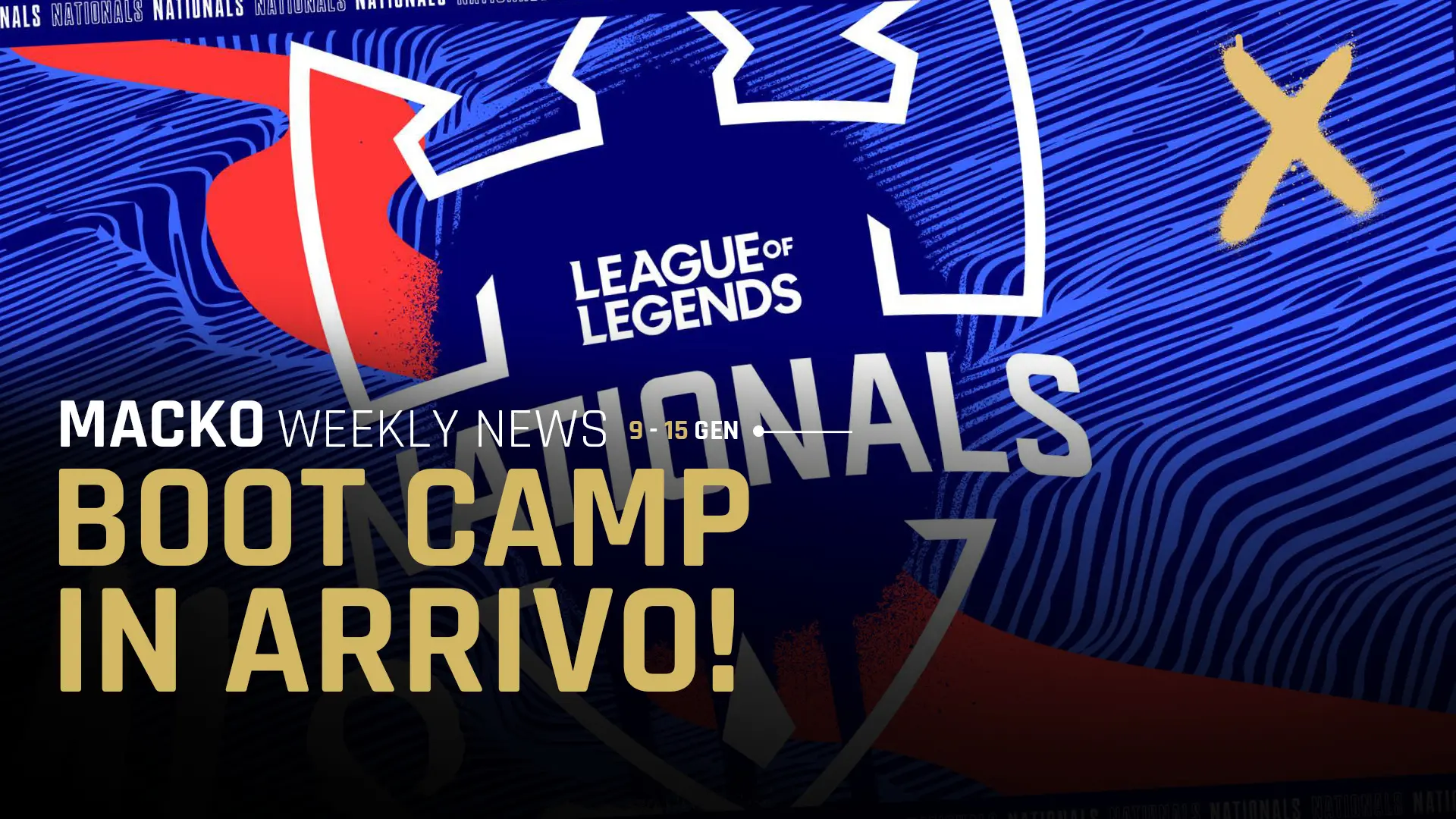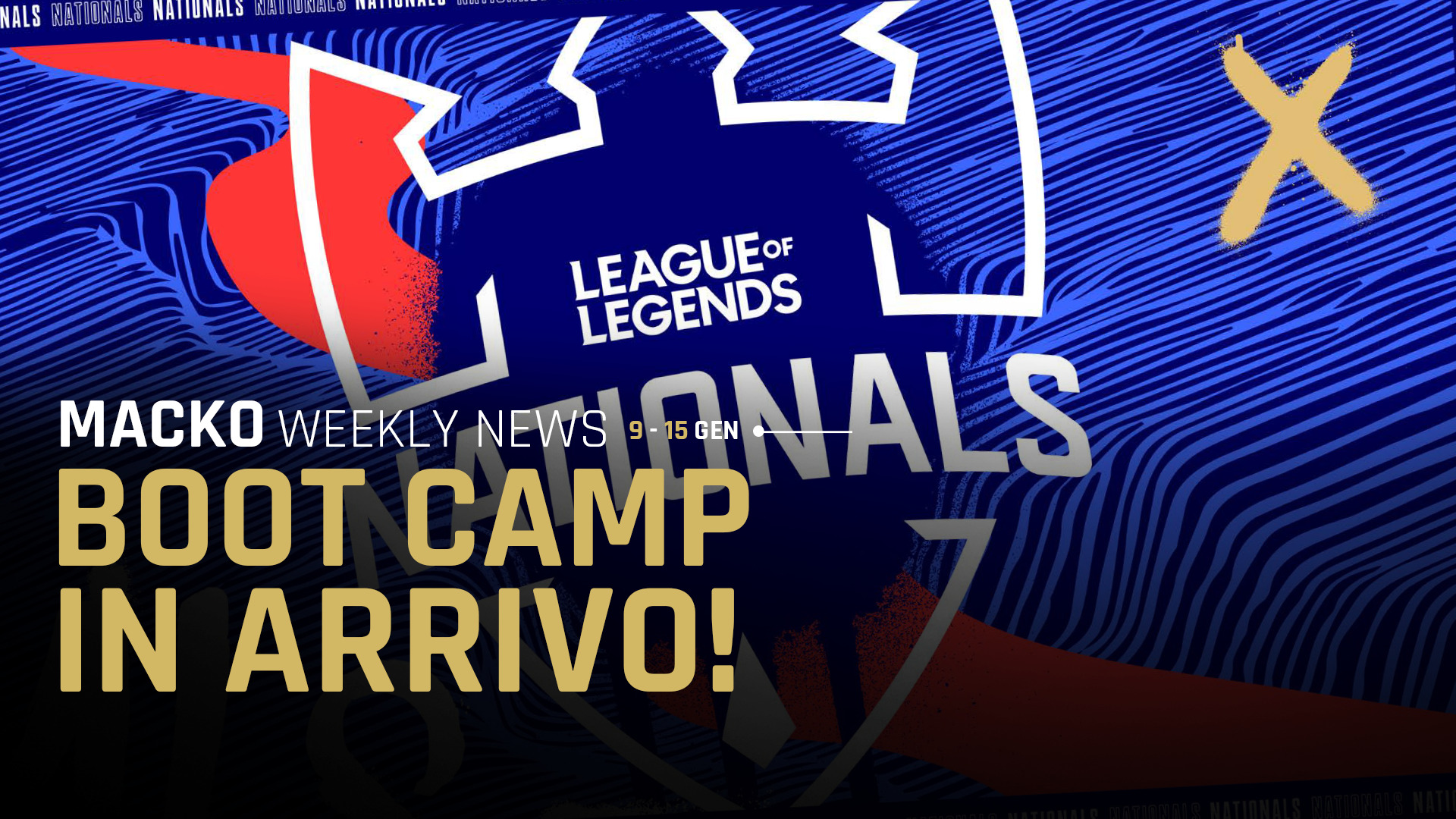 Boot camp in arrivo!
Tornano le MACKO Weekly News! Curiosità sul nuovo roster di LoL e… c'è aria di boot camp in Gaming House!
LEAGUE OF LEGENDS
Dopo mesi off season finalmente si ricomincia: abbiamo annunciato il nuovo roster per questo Spring split di League of Legends PG Nationals e non vediamo l'ora di mostrarvelo in azione!
In top lane c'è l'inglese Kerberos, 24 anni, che arriva da un'esperienza in NLC con i Nordavind e un 1° posto al Leagues.GG Winter Showdown con gli 00 Nation.
La mid lane è affidata al norvegese HawHaw, 22enne ex BiFrost, org con cui nel 2021 ha conquistato più di un podio nel campionato norvegese Esports Series.
L'arduo compito di essere all'altezza di Cboi spetterà a Sof, scommessa inglese di 23 anni, anche lui presenza fissa in NLC dal 2020, ultimamente con i Resolve. Questo split dovrà fare squadra con il suo ex avversario in NLC Kerberos.
In bot lane il grande ritorno sulla landa del nostro Rharesh, che dopo 2 vittorie come Strategic Coach ha deciso di tornare in campo più determinato che mai.
Altra grande conferma tutta italiana è Click nel ruolo di support, approdato in casa Macko nello scorso Summer Split. Facci sognare ancora, campione!
Se vi siete persi il video di roster reveal, eccolo qui. Non perdetevi la chicca finale!
MACKO Esports | League of Legends season 2022 |💥 Let's do it again 💥 (…watch till the end🤣)
Roster Reveal @Rhareshlol – @ClickTheNik – @HawHawNeverLuck – @soflol – @kerberos_lol#drawntodare ⭐️⭐️ pic.twitter.com/PsKyW0OqK6

— MACKO™ Esports (@mackoesports) January 11, 2022

Tutto il team arriverà alla MACKO Gaming House di Monopoli (BA) a fine gennaio, per affrontare lo split gomito a gomito a partire dalla 3a giornata di campionato. Obiettivo: la tripletta!
PG NATIONALS SPRING SPLIT 2022
1° match: MACKO vs Axolotl, martedì 18 gennaio h 21:00 su twitch.tv/pg_esports_lol
RAINBOW SIX SIEGE
Anche il team di Rainbow Six aveva nostalgia di casa MACKO: i campioni d'Italia si riuniranno per una settimana di boot camp a partire dal 18 gennaio per tenere alte le performance e perfezionarsi in vista del prossimo split di PG Nats (Marzo '22). Stay tuned!